Tour to Komodo Island from Bali
---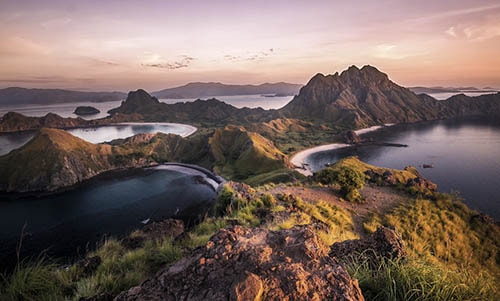 What is a tour to Komodo from Bali? A Komodo tour from Bali means you will have a tour that connects you directly to Komodo. Once you arrive, our team will redirect you to the boat tour. It also means you will do the tour on the same day of your arrival in Labuan Bajo. You will never have a stay in Labuan Bajo
This type of Komodo tour packages departs every day. If you want to join the tour, you need to take an early flight from Denpasar Airport to Labuan Bajo. The earliest flight is most at 06.00 to 07.30 am from Denpasar. You will arrive in Labuan Bajo at 09.00 am and our team is ready at the airport to pick you up.
If you plan to have a day tour using a speed boat from Labuan Bajo. All you need to do is take the early flight at 07.30 AM from Bali. You will be there around 09.00 am at Labuan Bajo Airport.
We do pick up and drive directly to the dock. The tour starts on the same day you arrive at Labuan Bajo Airport. And then the tour will finish around 05.00 pm. We will do a hotel drop-off in Labuan Bajo.
The Best Tour to Komodo from Bali
Our recommended Komodo tour package from Bali is 3 Days Komodo National Park Liveaboard from Labuan Bajo. We are also available for other itineraries such as 2 days Komodo National Park tour and many more.
Other tour packages you can book are Flores Tours, Sumba Tour Packages, and Lombok Tours. There are also some Komodo diving packages to offer, such as 1 day Komodo island diving from Labuan Bajo.
Go to the search box on the homepage to book this package. You can also check our other Komodo tour packages for the best recommendations.
Recommended Places to visit
Depending on the tour packages you choose to book, whether it's a day tour or liveaboard. The fact is each tour package has different recommended places to visit. But in general, below are the most recommended places to visit:
Padar Island is the place where you can enjoy spectacular views with a great island formation in Komodo National Park
Pink Beach is one of the most popular beaches. It is a soft pink sandy beach, best for snorkeling, swimming, or beach lounges
Komodo Island is an island where you will find Komodo Dragons, hiking through a dry savannah to find the Komodo
Kalong Island is is a small mangrove island that is popular with bats flying over the island in the afternoon. Enjoy the sunset while watching thousands of bats flying over the island
Manta Point is the best place for snorkeling. You will find the schools of Manta Rays on this spot.
Gili Laba is an island that is perfect for sunset in Komodo National Park. Hiking on the island to find a great spot for pictures.
Kanawa Island is famous for its white sandy beach, colorful corals, and panoramic island. Perfect for snorkeling and swimming.
Manjarite Beach is one of the perfect snorkeling spots. This place is not very touristic, few visitors are seen here.
Sabalon Island is one of the islands that are close to Labuan Bajo. The island offers a beautiful white sandy beach and beautiful coral gardens. It is a perfect island for snorkeling.
Kelor Island is picturesque and is located in front of Labuan Bajo. A beautiful island with white sandy beaches and crystal clear water.
Rinca Island is an island where the Komodo Dragons are living. It is one of the perfect places to spot Komodo beside Komodo Island. You can also hike for a beautiful view.
What will you get when joining these tour packages?
The Komodo Island tour package from Bali is one of the best recommendations to book. You can enjoy the whole service included with the price you pay.
Below are the things you will get when joining the Komodo tours:
Meals (breakfast, lunch, and dinner)
Entrance fees (depending on what tour package you book)
English-speaking guides
Whole Boat Service
Hotel transfers in the area of Labuan Bajo
If you want to join this Komodo island tour, you have to book in advance to get the space and special offer. Taking the tour to Komodo in the high season is very recommended to book in advance.