Komodo National Park, Indonesia
---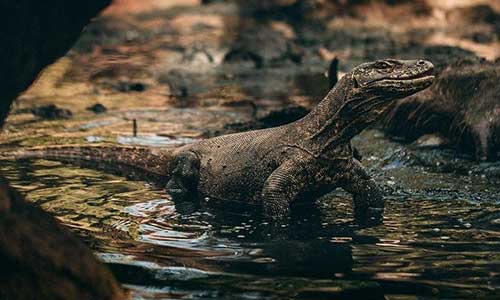 Komodo National Park is located on the West Mangggarai Regency in East Nusa Tenggara. The Park consists of the three largest islands Komodo, Padar, and Rinca. There are also 26 smaller islands with a total area of 1.733 km2. The national park was founded in 1980 to protect the Komodo Dragons and other wildlife.
In 1991 the park was declared a UNESCO World Heritage Site. And winning the New 7 Wonders of Nature in 2011. It also keeps exotic flora such as the variety of Python Woods. These woods can be used for medicine and the coloring of the material.
The national park is popular as the original habitat of Komodo Dragons, the largest lizard on the earth. Currently, data from 2009 records show that there are 1300 living species of Komodo dragons on Komodo Island. There are others who are living near Komodo Island, such as Rinca Island, Gili Motang, and Wae Wul. So the total from each island is 2500.
Besides the Komodo Dragons Adventure, you will also find other activities such as snorkeling, diving, and hiking. It is always an amazing thing to see the Giant Lizard Komodo dragons in their habitat. To see the Komodo Dragon, you can join our Komodo tour packages or book a Private Komodo Phinisi Boat. Special offers are available.
The Year of Established
In 1980 the National Park was established to protect the Komodo Dragon and its habitat. There are 277 species of animals that are a mix of animals originating from Asia and Australia. There are 32 species of mammals, 128 species of birds, and 37 species of reptiles. Together with the Komodo Dragon, there are at least 25 species of terrestrial animals and birds, including protected animals. This is due to their limited number of spreads.
In addition, in this region, there are also coral reefs. There are at least 253 species of coral reefs found there, with about 1,000 species of fish. The beauty of this reef attracts foreign tourists to swim or dive in these waters. These islands are originally volcanic islands. The population in this area is approximately 4,000 inhabitants (data taken from Wikipedia.org).
Getting to Komodo National Park
The National Park is located in East Nusa Tenggara, Indonesia. It is a group of islands in West Flores. The main attraction of the park is Komodo Dragons. The largest lizard in the world was found on the 2 big islands, Rinca and Komodo island.
Below are the best ways to get there:
Flight from Bali or Jakarta to Labuan Bajo, then book a day tour or live abroad.
Boat trip from Lombok which is scheduled 3 times a week.
Live abroad from Bali in private or shared groups.
Buses from Bali or Lombok via Sumbawa island for 2 days.
Pelni, the biggest Indonesian boat. Depart 2 times in a month, from Bali or Lombok.
If you decide to go for Komodo Tour Packages, make sure you book the tour in advance. Get a special offer with a professional tour guide and book online.