Diving, Snorkeling & Beaches
---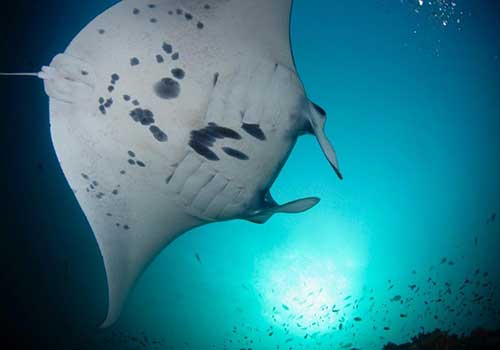 Komodo National Park is one of Indonesia's famous dive destinations. There are over 20 dive sites which are a promise to bring great underwater adventure.
Diving and snorkeling are very recommended activities while visiting Komodo National Park. Take a tour to some of the dive operators in Labuan Bajo which offers fun day dive trips and Snorkeling. You will be excited about the amazing underwater marine life in Komodo.
Most visitors will join the day trip dive which are include the Komodo adventure and visit some beautiful beaches. However, some also join on a Liveaboard dive trip which takes 3 days and 2 nights or more. This diving activity will allow you to explore more dive spots on Komodo.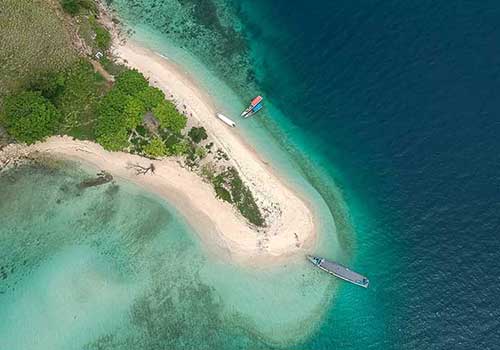 5 Best Diving Spots in Komodo
These 5 best dive sites on Komodo are considered to put on your dive plan. Once you step into the dive operators, you may request dive spots to visit. These dive spots also include the best snorkeling spots in Komodo.
Below are 5 best dive sites on Komodo National Park:
Batu Bolong is one of the best dive spots in Komodo National Park. Located between Komodo Island and Tatawa Kecil, this dive spot has powerful current and coral-crusted plunging. You will experience diving with turtles, Napoleon Wrasse, Manta, dogtooth tuna, and giant trevally.
Castle Rock is an excellent visibility dive site in Komodo. You can experience diving with Baracuda, jack, mackerels, reef sharks, and napoleon wrasse.
Tatawa Besar is a magic drift dive spot. What you can see here are crocodile fish, octopus, angelfish, giant trevally, hawksbill turtles, and reef sharks.
Manta Point is a great dive spot where you can spot schools of Manta Rays. This spot is also the most popular for snorkeling. You can also enjoy beautiful coral gardens here.
One Tree is located in central Komodo National Park. Experience diving with fusiliers, white tip reef sharks, and napoleon wrasse. You will also enjoy the fantastic coral gardens here.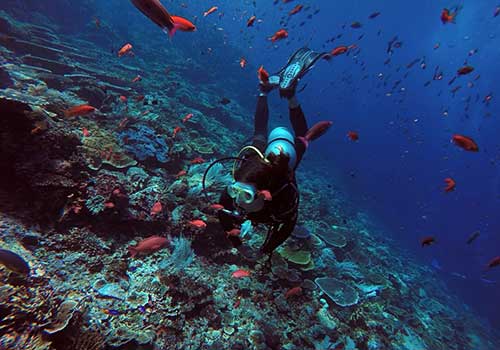 Recommended Diving Trip Packages
If you are a diver and plan to dive in Komodo National Park, below are some of the best dive packages to book:
Day trip dive from Labuan Bajo. The dive tour arrangement will accommodate your dive plan to Komodo. You will have 2 dives on different spots in Komodo National Park.
2 Days and 1-night dive trip. The type of dive trip is a Liveaboard. You will stay one night on the boat and have two dives each day. You will also have time to enjoy the beaches while on Komodo National Park.
3 days and 2 night Liveaboard dive trip. These are the most popular dive trip arrangements. You will have 2 or 3 dives each day and also visit Padar and Komodo island. Enjoy the night during the sailing.
For more dive trip arrangements, you can visit Komodo dive trip packages from Labuan Bajo.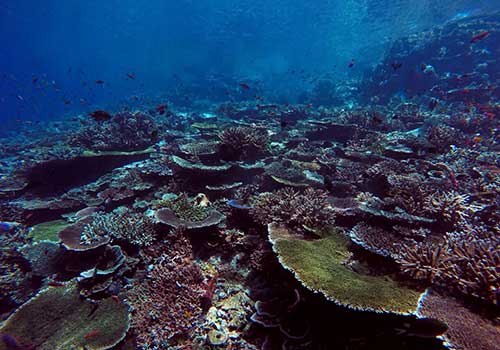 Snorkeling Spot and Beaches in Komodo
If you want to do snorkeling and enjoy beautiful beaches in Komodo, below are some recommended places to visit:
Tatawa Kecil is one of the recomended snorkeling spot. There you can enjoy the beautiful coral gardens. You can also find small colorful Serranide fish here. The visibility is very good, but be careful with strong currents.
Kanawa Island offers a great underwater life. Besides that Kanawa also offer beautiful white sand beaches. You can relax on the island or beach walk.
Manta Point is probably the most popular snorkeling spot. This spot is a place where you can find hundreds of Manta Rays. Near Manta Point, you can enjoy the white sand bar at Taka Makasar.
Manjarite Island is the place where you can enjoy snorkeling in fantastic coral gardens.
Siaba Besar is also recomended snorkeling spot in Komodo National Park. You will see many turtles and colorful fish. Enjoy also the beautiful white sand beaches on the island.
The best way to do snorkeling is to join the boat tour to Komodo or dive package trip. This is very possible for you to enjoy the best underwater life in the National Park.