9 Best Places to Visit in Labuan Bajo
---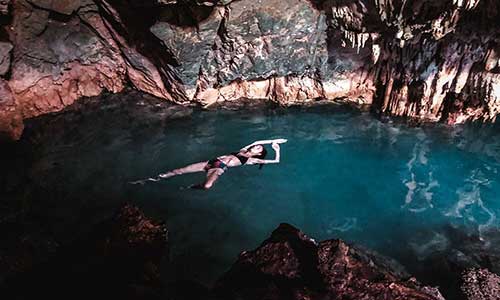 Labuan Bajo is a small town where the tourism industry has risen in the last few years. The town is the main gateway to enter Komodo National Park. We have listed the 9 best places to visit in Labuan Bajo, including things to do.
Labuan Bajo is also the main ferries dock from Sape, West Nusa Tenggara. It is a busy harbor at the moment due to the areal is also for Komodo boat docking. Phinisi boats and high speedboats for the Komodo trip can be found here.
Drive to the north of the town, you will find some beautiful hills with spectacular landscapes. Star hotels and villas are also found on the side of the main road. This is the best side to have a sunset.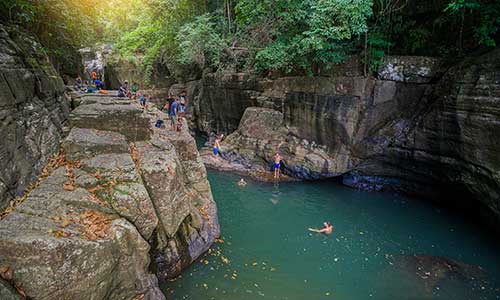 Below are 9 best places to visit in Labuan Bajo:
Cunca Rami Waterfall is one of the beautiful waterfalls in Labuan Bajo. Trek through a rice field, tropical forest, and enjoy the beat of the waterfall.
Batu Cermin Cave is a limestone cave located 10 minutes from the town. Experience a walkthrough of the tunnel.
Cunca Wulang Waterfall is located 45 minutes from Labuan Bajo. Trek through the rain forest, enjoy jumping in a canyon and waterfall.
Bukit Sylvia is located 10 minutes north of Labuan Bajo This is probably one of the best places to spot a sunset.
Goa Rangko Cave is located about 1 hour from Labuan Bajo. This is a limestone cave with a natural blue pool inside.
Pede Beach/Pantai Pede is probably a beautiful beach in Labuan Bajo. This is the only beach located south of Labuan Bajo harbor.
Melo Village / Kampung Melo is the traditional Manggarai Village. The village where you can see the famous traditional Caci dance performance while experiencing the local life.
Spider Ricefield is located about 3 hours from Labuan Bajo. It is one of the most beautiful formated ricefields which looks like a spider net.
Sunset at Waringin hill. It is one of the best places to have a spectacular sunset in Labuan Bajo. It is located in the main tourist area of Labuan Bajo
Those are all the best places to visit while you are in Labuan Bajo.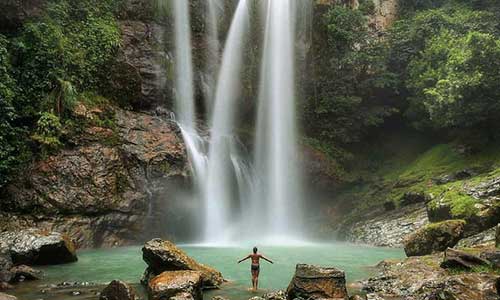 Getting Around
Getting around this small town is easy, you can prefer to go on public or private transfers. Both types are available in Labuan Bajo.
Below are ways to get around Labuan Bajo:
Bemo is a public minibus. This type of transport is available to do a transfer in the main area of the town. The price is 5.000 Rupiah per person, depending on the distance, it can be more.
Ojek is motorbike transportation. This can cost you 10.000 to 25.000 Rupiah
Rent a motorbike. This seems to be the best option if you want to enjoy the trip
Join a day tour that is provided by some travel agencies, online, or street vendors.
Renting a car is also the best option if you want to go on a private and comfortable trip.
If you want to see more of the tour arrangements, visit our Flores tour packages page. There you can find a variety of Labuan Bajo tours.