Goa Rangko Cave, Labuan Bajo Flores
---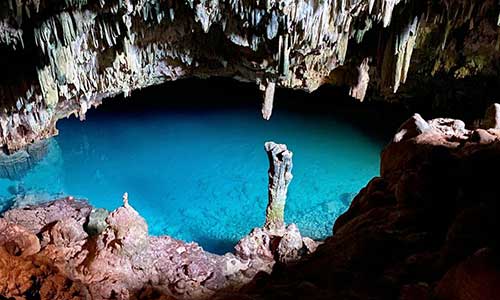 Goa Rangko cave is located in Rangko village, Boleng Labuan Bajo. It is one of the best tourist destinations to visit while you are in Labuan Bajo.
Labuan Bajo is the capital city of West Manggarai regency, East Nusa Tenggara Indonesia. It is the main gateway to explore Komodo National Park. Labuan Bajo is also a public ferry port for ferries docking from Sape, West Nusa Tenggara.
Getting to Goa Rangko Cave
The first thing you need to do is fly from Bali or anywhere else in Indonesia to Labuan Bajo. After that, start to find transportation or a day tour to Goa Rangko.
Drive along beautiful landscapes from Labuan Bajo to the harbor. You may ask to stop for a couple of minutes to take pictures while on the way.
Ranko cave is approximately an hour in total from Labuan Bajo. You will be driving about 30 minutes from Labuan Bajo to the harbor. After that, get on an outrigger boat for 20 minutes and then hike for less than 10 minutes to the cave.
What do you expect from Goa Rangko?
Goa Rangko is a limestone cave. There you will see crystal clear blue water inside the cave. The water will be hit by sunlight once a day.
You can swim in the pool, take some pictures, and also you will see some fish here. Enjoy swimming in the natural pool.
Note that when you step around the pool, be careful as the rocks are slippery. Ask your guide for help if you get the problem.
Best time to visit the place and the entrance fee cost
The best time to visit the cave is around 14.00. It is because at that time the light hits the water. You can start driving from Labuan Bajo at 01.00 pm.
If you join Labuan Bajo tour packages, you will probably visit some destinations near Labuan Bajo. It is the most like visiting waterfalls nearby the town such as Cunca Wulang.
The entrance fee to the cave is IDR 50.000 per person. The fee is subject to change, depending on the season. If you go in the high season like in August, it's probably more expensive.