Gili Lawa Island , Labuan Bajo
---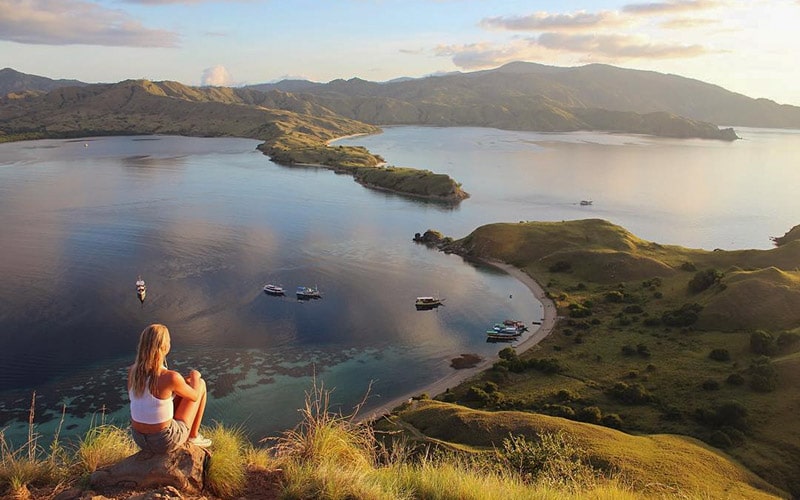 Gili Lawa Island, Labuan Bajo is located in the North of Komodo Island. It is an inhabitant small island in the group of the Komodo National Park. Locals also call this island Gili Laba. There are two-parts, Gili Lawa Darat and Gili Lawa Laut. Both of the islands offer an exotic view of the landscape.
The island is one of the bucket list destinations during the Komodo National Park tour. Most of the tour package arrangement has input the island on the itinerary. So you can make a search to find the tour arrangement that lists Gili Lawa on it.
The location of the island is not too far from the other islands nearby, such as Komodo Island. You can use the boat tour to reach each of the islands from Gili Lawa with the boat tour. Select the safe boat as the currents are quite strong over here.
Getting to Gili Lawa Island, Labuan Bajo
The first thing when you want to get to Gili Lawa Island is taking a flight from Denpasar or ferry from Sape to Labuan Bajo. Here are the ways to get to Gili Lawa from Labuan Bajo:
Book a liveaboard Phinisi boat from Labuan Bajo. There you can choose to do 2 days or 3 days tour. This boat tour is offering a private and sharing arrangement.
Getting on the private speedboat from Labuan Bajo. Sharing speedboat probably not hop on this island.
For any inquiry of your tours, you can go to the home page of Komodo Wisata. Choose the best tour suit to your budget.
Things to do on the Island
Gili Lawa is one of the perfect islands to visit at Komodo National Park. The island offers a spectacular view and underwater marine life. Here are things you can do on the island:
Snorkeling and Diving. Gili Lawa is one of the best underwater marines' life. Here you can do snorkeling and diving. Perfect corals, a variety of fishes, and species of sharks are found here.
Hiking to the top of the island for a spectacular view. Having sunset and taking pictures is also the best you can do on this island. You can also relax on white sandy beaches.
Accommodations and Restaurants
The accommodations and restaurants on this island are not found. All you need to do is make sure the boat tour you book has inclusive with the meals on it. If you want to do a little shopping, you can do it when your boat hops on Komodo Island.
Komodo island is staying close to Gili Lawa, most of the tour operator step Komodo first before Gili Lawa. So it is a good chance for you to do a little shopping before at Komodo Island getting there.
Enjoy your time on such a paradise island. Feel the vibe and relax before getting back to Labuan Bajo or continue to the other destinations. Relax on the beautiful white sandy beaches.