Sumba Island, Indonesia
---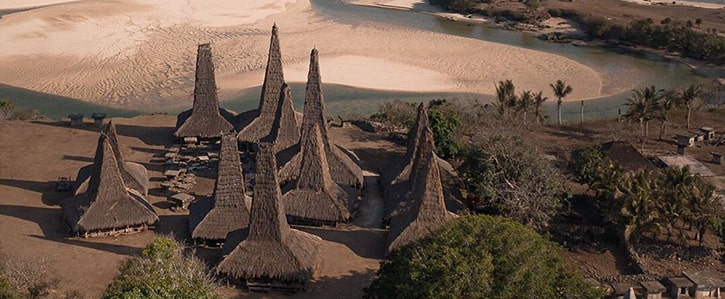 Sumba Island is an island which is located on the South of Flores island. It is an island in the East Nusa Tenggara Province. The island is about 10,710km2 and the highest point is Mount Wanggameti at 1,225m.
The island of Sumba is consist of 4 districts, they are West Sumba, Southwest Sumba, Central Sumba, and East Sumba.
The biggest city is Waingapu, the capital of East Sumba. There are Airport and ferry harbor to connect the island with the others.
Before being visited by Europeans in 1522, Sumba was not ruled by any nation. Since 1866, the Dutch controlled the island, and then become part of Indonesia.
According to the 2010 National census, Sumba has the 685,186 population. The population racially mixed Mongoloid and Melanesia races.
Most of the population adheres to Merapu's animistic beliefs and Christianity, both Protestant and Catholic. Small numbers of Muslims can be found along the coast.
Getting to Sumba Island
Flight from Bali or Jakarta now offers a daily schedule. Try a google search for a flight to Sumba.
Ferry from Sape (Sumbawa Island) to Waikelo harbor in Sumba. First, if you are in Bali and decided to take a ferry, the first thing is you need to go to Padang Bai harbor. From Padang Bai, you take a ferry to Lombok. And then land transfers to Pelabuhan Lombok to catch a ferry to Poto Tano in Sumbawa. From Sumbawa, you drive to Sape harbor and then get on the ferry to Waikelo in Sumba.
What to See in Sumba?
Sumba has a lot to offer, such as culture, nature, and beaches. It is always a great idea traveling to Sumba and manages a complete 5 days at least to spend.
The Sumba island tour packages combine the visiting to beautiful nature and culture, including the traditional houses.
You can also have a chance to see the biggest ceremony call Pasola. This event is held every year, normally in March. Here are some things you can do and see on Sumba island tour:
West Sumba Destination:
Kodi area will most visit the traditional houses, such as Ratenggaro village, Tarung Village, and Praijing village. While Ratenggaro Beach is also located at Ratenggaro village. This is one of the beautiful white sandy beaches.
Weekuri Lake, the slated lake located in Kodi area, West Sumba
Pero Beach, the beautiful white sandy beach with the beautiful rock formation. Located in Kodi, West Sumba.
And there are many more places to visit in West Sumba.
East Sumba Destination:
Warinding hill, a breathtaking view with the beautiful hill formation. It is also a great place for having a sunrise.
Walakiri Beach is the mangrove beach with a white sandy beach. Best spot for having a sunset.
Lapopu Waterfall, it is located in the East Sumba.
There are many more places to visit in East Sumba.
To visit Sumba, you need to book a flight from Bali or Jakarta, there is now a daily departure from Bali. Click on the Sumba tour package for details tour arrangement.