Kalong Island, Flying Foxes Island
---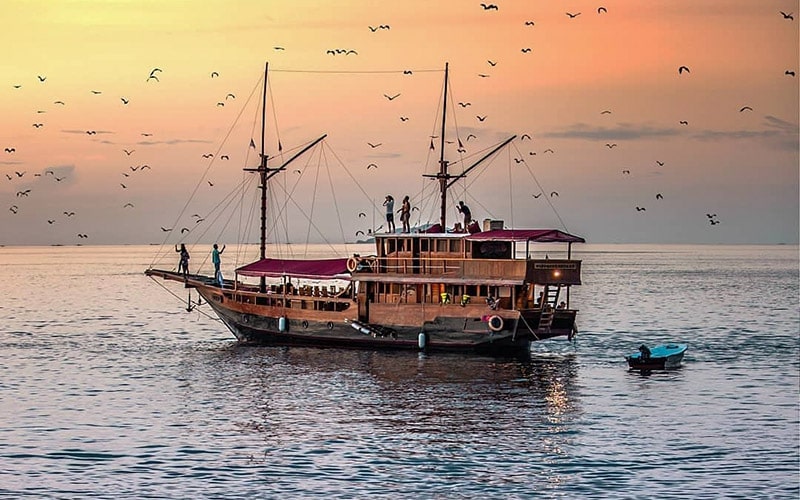 Kalong Island, flying foxes island is an island in the Komodo National Park. The island is famous for thousands of flying bats. Kalong is located between Papagarang Island and Rinca Island.
Most of the Komodo boat tours will anchor and overnight here. So they can watch bats flying over the island while enjoying the perfect sunset. It is a small mangrove island with no population are living. A pure nature island to spend on your Komodo vacation.
The island gives no beach for relaxing and snorkeling here. All you need to do here is stay on the boat. The island is a mangrove, so you probably can not step into the land. Most of the boat tour, treat their visitors around the island by boat.
Getting to Kalong Island
The island is accessible by the boat, high speed, or Indonesia Phinisi boat. And the best access is from Labuan Bajo. The island is about 3 hours with the boat from Labuan Bajo. Here is the way how to get there:
Ferry from Sape to Labuan Bajo and then get on the boat from Labuan Bajo.
Flight from Bali to Labuan Bajo and then join the Komodo boat trip. This is probably the best-recommended way for you.
The Komodo trip will also let you visit the other islands such as Padar, Rinca Island, and Kanawa Island.
Accommodations and Restaurants
There is not found any accommodations and restaurants on the island, It is an inhabitant island. All you can do is you will stay on the boat when you hop on the island. All the boat tour companies provide rooms and meals.
Some places near Kalong Island such as Rinca and Komodo Island available only Warung or local foods. You can also do some small shopping such as water, snacks at the nearest islands, especially on Komodo Island.
Kalong is one of the best destinations you have to visit at Komodo National Park. Most of our tour package list Kalong as one of the destinations to visit. For the best accommodations and variety of restaurants, we recommend you to stay in Labuan Bajo before doing the trip.