Top 10 Komodo National Park Dive Sites
---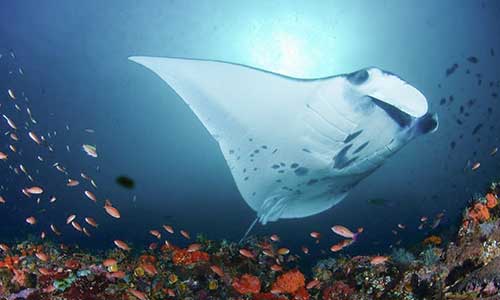 Komodo National Park is one of the most beautiful dive destinations in Indonesia. The park is famous for its beautiful coral gardens, colorful underwater life, and lush wildlife.
Some of the dive operators in Labuan Bajo offer 2 types of diving tour arrangements. The first option is Komodo day trip dives and the second is Komodo Liveaboard dive tours. These types of dive arrangements are the most popular to offer.
At Komodo National Park, you will find a variety of dive sites with different visibility of each site.
List of the top 10 Komodo National Park dive sites:
Batu Bolong is also well-known as Hollow Rocks. This dive site is one of the most beautiful dive sites in Komodo. In the beginning, you will see a small rock, but when you dive in, you will find a giant rock p to 70m deep. It is covered with beautiful gorgonians, corals, and sponges. What you will see here are white tips Shark, dogtooth tuna, school of fish, and napoleon. The current here is very strong.
Cauldron shotgun. This dive site has 2 main parts, the first is sandy bottom covered with gorgonians and soft corals. The second is you will pass over faults and canyons. The current is very strong here and it will suddenly rise, you need to stop if you can.
Manta Point is located in the Northeast of Komodo Island. It is one of the best dive sites in Komodo National Park. Here you have a possibility to dive with Manta rays. Manta Point is a relatively easy drift dive, consisting of rubble forming with small mounds at 8 to 15 meters deep.
Castle Rock is located north of Gili Lawa Darat. This dive site requires experienced divers because there is a very strong current here. What you can see here are giant groupers, tunas, white tip sharks, manta rays, gray reef sharks, big-headed sharks. You can even see the dolphin here.
Siaba Besar is located in the North of Komodo National Park. This dive site is perfect for beginner divers. There are two parts, the first is a large coral reef and the second is a sandy bottom. Here you will possibly see turtles, frogfish, white tip sharks, lionfish, and moray eels.
Tatawa Besar is located about north of Komodo Island. It is one of the strong current dive sites where an experienced diver is required here. It is the best place to find turtles. The dive starts with drift and then a sloping reef of orange corals.
Three Sisters is located in the south of Flores island. It is the best for all levels of divers. Here you will find white tip sharks and beautiful coral reefs, the current here is medium.
Crystal Rock is located near Castle Rock. This dive site has a beautiful rock formation and the current is very strong here. What you can see here are octopuses, cuttlefish, surgeons, butterflies, bighead sharks, and white tip sharks.
Police Corner is located in Komodo. What you can see here are eagle rays, reef sharks, nudibranchs, antennas, and seahorses. This dive site has a medium to strong current
The Yellow Wall is located in the South of Rinca Island. It is suitable for beginner divers as the current here is low. What you can see here are fish, sharks, cucumbers, and starfish.
For more details on dive arrangements, you can visit our Komodo dive tour packages. We offer a variety of dive tour arrangements in Komodo National Park.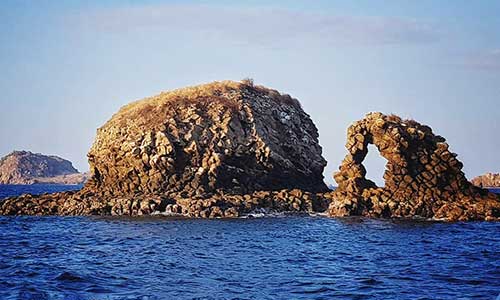 Best time to dive in Komodo National Park
Indonesia has two seasons every year, they are a dry season and a rainy season. The dry season is from April to September, it is the best time, while the rainy season is from October to March.
If you want good visibility, you can visit from November to January. The water cooler is on average 20 to 25°c in the southside and 25 to 28°c in the North.
July and August will have lower visibility, but you will have blooming marine life. During these months you will also find a rough sea in the south like Rinca island. From January to March there are rough surface conditions at the northern dive sites. These sea conditions will not interfere if you go on a liveaboard dive tour.