Tengku Siwa Waterfall, Reok Manggarai
---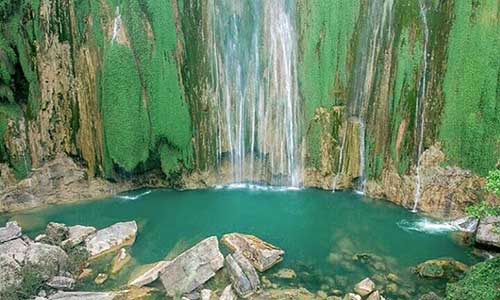 Tengku Siwa Waterfall is probably one of the most spectacular waterfalls in Flores. The waterfall is located in West Reok (Sambor) Manggarai, East Nusa Tenggara.
The Tengku Siwa waterfall is surrounded by tropical forests. It is 25m in height with a width of approximately up to 10 meters. The waterfall stream can go large in the rainy season while in the dry season it can go small.
West Reok is a sub-district of the Mangarai Regency with a total population of 15.274. Most populations are farmers, while the rest are fishermen, civil servants, and businessmen. It is a small, beautiful sub-district with a wide ricefield surrounding it.
About 601,5m from sea level, West Reok offers some beautiful tourist destinations such as ricefields, waterfalls, and landscapes. They also have a beautiful beach which is the best spot for having sunset.
Getting to Tengku Siwa Waterfall
Tengku Siwa Waterfall is located in West Reok. It is 127km from Labuan Bajo and can be accessed by bus, car, or motorbike.
Below are two options to get there:
First, you can go via trans Flores to the Northside of Labuan Bajo. It will take approximately 5 hours and 30 minutes to get there. This route will go through Terang, Noa, Pacar, Rego, and then West Reok. The road is under construction, especially from Pacar, but most are well-paving roads.
Second, you can go via Ruteng. This route takes longer than the first option. You will spend approximately 6 hours. Road conditions all the way from Labuan Bajo to Reok are in good condition.
When you get to Sambor village in West Reok, you will need about 30 minutes to walk to get to the waterfall. If you go during the dry season, you may drive straight to the parking area of the waterfall.
What can you expect to do?
Below are the things you would expect to see and do:
Enjoy a drive through the rain forest on the north side of Labuan Bajo.
Stop at Sano Limbung (Limbung lake)
Enjoy the scenic rice fields at Terang and beautiful panoramas along the way
Walkthrough the tropical forest from Sambor to the waterfall
Swimming and taking pictures at the waterfall
How much is it to get there?
If you go via North Labuan Bajo or trans Flores, there will be no direct public bus. The only thing you can do is rent a motorbike in Labuan Bajo or join Komodo Wisata tours.
Motorbike rentals in Labuan Bajo will cost you IDR 100.000 per day. If you join the tour packages, it will be expensive. It will cost you approximately IDR 1.500.000 per day. The cost includes a private air conditioning car, tour guide, mineral water, and entrance fees.
For more information about the price to get there, you can visit the Labuan Bajo waterfall tour price. You can also contact us if you have questions about the tours.
Accommodation and Restaurants Near Tengku Siwa
Some of the accommodations are available in Reok. You can find them in the center of the town. You will probably not find star hotels, the only accommodations you will find are homestays and a standard hotel.
Our team has recommended the 2 best accommodations where you can stay when visiting Reok. The two standard accommodations are Hotel Paradiso and Reo Family Homestay. They are located in the center of town.
Restaurants are spread around the town. Most of them offer local cuisine, so you will probably not find a western restaurant in the town.