Sailing Boat Tour
---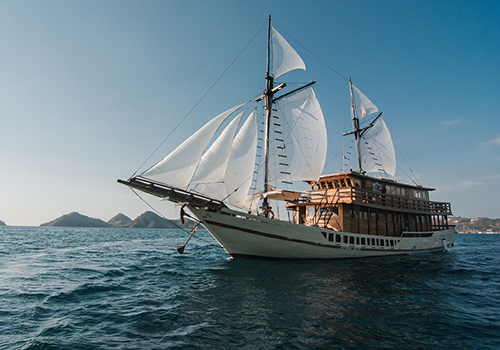 Komodo sailing boat tour is one of the best-recommended activities to do while visiting Labuan Bajo. You can enjoy exploring Komodo National Park on a Phinisi boat or cruise boat from Labuan Bajo, Bali, and Lombok. The sailing trip is available on a daily schedule from Labuan Bajo and weekly sailing from Bali and Lombok.
The Boat trip from Bali to Komodo operates two times a week. The popular arrangement is 7 days and a 6-night sailing trip from Bali. Once you join this sailing boat tour, you will able to visit Nusa Penida, Lembongan, Lombok, Sumbawa, and Komodo. You can dive, snorkel, enjoy the beautiful landscapes, and face to face with Komodo Dragons.
If you join the Komodo sailing trip from Lombok, you will be able to explore beautiful destinations around Sumbawa and Komodo National Park. The sailing boat tour from Lombok is available on 4 days and 3-night trips. It departs three times a week, every Monday, Wednesday, and Saturday.
The Best Sailing Boat Tour Packages
For those who are interested to do a boat sailing tour from Labuan Bajo, Bali, and Lombok. The following are best-recommended packages to Book:
Full-day sailing tour package from Labuan Bajo. You will enjoy a perfect day of activities with a comfortable Phinisi boat from Labuan Bajo. This Komodo sail trip will accommodate visiting 3 beautiful destinations in Komodo National Park.
2 days and 1 night saili to Komodo Island from Labuan Bajo. The trip is based on private service. You will enjoy the sail with a private Phinisi boat under a beautiful sky and the blue ocean. This sailing trip to Komodo will accommodate visiting 6 destinations on Komodo.
3 days 2 night Komodo island sailing trip from Labuan Bajo. This trip has two types, private and shared trips. Enjoy spectacular views, Komodo Dragons adventure, beaches, and amazing underwater marine life.
4 days and 3 nights Private Komodo sailing trip from Labuan Bajo. The tour will explore 9 extraordinary places on Komodo National Park. You will enjoy sailing with the comfortable Phinisi boat and enjoy the beautiful night under thousands of stars.
7 days and 6 nights Komodo sailing trip from Bali. This is one of the longest sailing trips to Komodo with a Phinisi boat. You will explore Nusa Penida, Lembongan, Lombok and Gili islands, Satonda and Moyo, and Komodo. Diving, snorkeling, beaches, trekking, spectacular views, and Komodo Adventure are the best activities to do.
4 days and the 3-night sailing trip from Lombok Island. The trip will accommodate visiting Moyo, Satonda, Kanawa is Sumbawa, and Komodo National Park. It departs three times a week.
For more arrangements of the Komodo sail, you can visit our sailing trip packages page. Find the perfect boat tour that suits your travel style. Besides the Komodo sail trip, you can also find some sailing boat tours to Raja Ampat and Nusa Penida.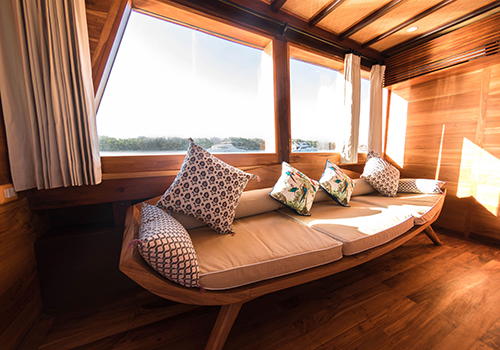 What advantages when joining a sailing trip?
Sailing on a Phinisi boat is an enjoyable thing to do. You can feel the different world through the beautiful blue ocean. Sailing under the beautiful sky and passing the night with thousands of stars in the sky.
For those who prefer to take part in this sailing trip, the following are advantages you will get:
You will have experience exploring each different beautiful place in one go trip
Allow you to relax and unwind in astonishingly beautiful surroundings
The attraction on sailing boat trips is that every day is unique and you will enjoy a different moment in each place.
You will also possible experience the local life in some parts of places your will visit
It is also a fabulous way to explore and enjoy the great outdoors whilst always having a warm bed with you.
Our sailing boats are ready to take you to the places where you should have a great holiday experience.