Pink Beach
---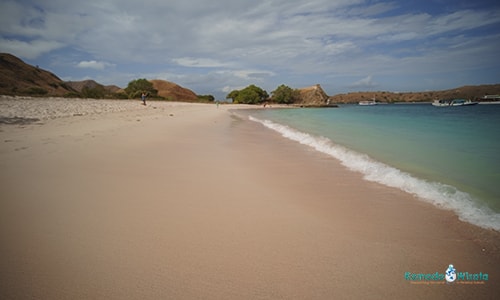 Pink Beach is located on Northside of Komodo Island. This is one of the most visited destinations on the Komodo Island Tour Package. The beautiful pink sandy beaches, make it become one of the iconic beaches on Komodo Island. Enjoy the beach walk while taking pictures.
The color of sand is coming from the coral's fragmentation. You will also find the untouched corals and a variety of fishes. Take a moment to hike on the small hill on both sides for pictures.
Getting to Pink Beach
The way to reach this beach is by joining the Komodo tour package. You can do it from Bali, Lombok and Labuan Bajo. Choose to do a day tour or liveaboard, both options are a good way to visit the beach. You may also do it from Bali by taking a cruise boat for approximately 7 days. You will stop in some of the places such as Lombok, Kanawa, Moyo and many more.
If you are in Lombok then there is a boat trip sailing from Lombok 2 times in a week. This sailing trip will use the standard phinisi boat for 4 days and 3 nights. See the tour packages details for the tour itinerary.
You can also arrange a day tour from Labuan Bajo. This can give you some visits to other paces such as Komodo Island, Padar island, and Manta Point. Choose to go with the outrigger local boat (not recommended due to the safety reason) or speedboat tour. The speedboat tour is the most popular way to visit in Komodo National park, include Pink beach.
The best thing before you decide to visit the Komodo island is finding a good time between April to September. There is a dry season during these months, so you can visit the island during this time. It is much enjoyed when you visit in the dry season.
Best Things to Do
Here are the best things you can do:
Swimming on the crystal clear water
Snorkeling
Hiking on the small hills
Pictures
Sunbathing
Relax on the pink sandy beach