Komodo Island Tour, Labuan Bajo
---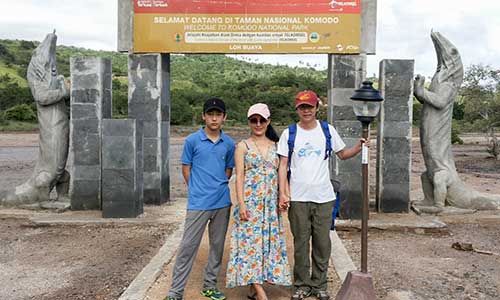 Komodo Island tour packages from Labuan Bajo are some of the best tour packages that we offer. We select the best Komodo tour packages that suit your holiday budgets. Choose one of our Komodo Island tour packages: day tours, liveaboard, dive packages, and private yacht charters.
Komodo Island is one of the islands where you can find over 1000 species of Komodo Dragons. While other places such as Padar Island and Gili Lawa offer spectacular views. Both islands are perfect for having sunsets.
How do I arrange my Komodo Island Tour?
For the best Komodo tour package arrangements, we recommend doing an advance booking. At least one week in advance of your departure date. So we can organize a great arrangement.
Below are some of the most recommended Komodo tour packages to book:
Most of the tour arrangements are set to depart daily in the morning, while the 3 Days Sharing Komodo Tour Package is offered once a week. There are also some Komodo tour packages such as a combination Komodo tour package and a Komodo boat trip from Lombok.
Where to start my Komodo tour and what time?
The best way to start your Komodo tour package is from Labuan Bajo. Labuan Bajo is located in West Manggarai Regency, Flores. It is a small fishing town that is well known as the only gateway to Komodo National Park.
The departure times are varied. Our earlier departure is at 06.00 am from the dock of Labuan Bajo. Especially for speedboat full-day tours or private tours on request. Another departure is available at 09.30 am. This departure is mostly for liveaboard such as 3 day Komodo tour, private and shared. The last departure is available at 12.00 am (midday), it is only provided for private tours.
At Komodo Wisata Tours, you can also request a specific time to start your Komodo tour. Our team is ready to discuss this with you. You may contact us via email or WhatsApp on the contact form.
How do I get from Bali to Labuan Bajo?
There are some options to get to Labuan Bajo from Bali. Choose between the options on the following:
Book a flight from Bali to Komodo Airport Labuan Bajo for 1-1 1/2 hours. Most are direct flights at various times of departure. The earlier departure is at 08.00 am on Wings Air or 08.55 am on Garuda Indonesia.
Ferry from Bali crossing to Lombok and then bus to Sape harbor. Ferry crossing from Sape to Labuan Bajo. It takes approximately 28 hours, all the way from Bali to Labuan Bajo.
PELNI (a big ship) from Bali with 2 departures a month. It takes approximately 28 hours with stops in Lombok and Bima.
For your convenience time, Komodo Wisata Tour recommends getting on a flight. However, it depends on your travel style.
What services do you get on your Komodo Tour Package?
This is one of the most important parts of your Komodo tour arrangement. You have to know well what services are within the price you pay. Our Komodo Island tours are all covered with main and additional services. Below are the services you can get:
Komodo Boat Tour (high speedboat or Phinisi Boat), depending on the package you choose.
A visit to destinations as per itinerary
Licensed Captain, Friendly and professional boat crew
Free hotel and airport transfers in Labuan Bajo
Professional Komodo tour Guide (diving and tours)
Lunch box for a full-day speedboat tour
Meals, fruits, mineral water, coffee, or tea (for liveaboard) private and sharing tour.
Komodo entrance fees for some of the tour itinerary
Full boat service. Airconditioning cabin rooms, fans, indoor and outdoor sharing toilets (for Phinisi Liveaboard).
For any details of the service within the Komodo tour prices, you can check on each itinerary.