Rinca Island
---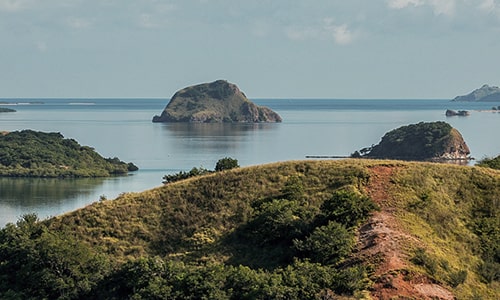 Rinca island is a rough little island located just off the Western tip of Flores island. It is an island in East Nusa Tenggara Indonesia. The island is famous for Komodo dragons adventure and spectacular view. There also some wildlife inhabited on the island such as deers, wild pig, and buffalo.
Rinca is part of 3 largets islands in Komodo national park, it is less impact from tourism. The island is more likely to see Komodo dragons in their habitats. There are living about 1.300 Komodo dragons.
The Komodo Dragons are the largest lizard on the earth, it can grow up to 10 feet. Komodo can chase down the prey, usually deers, buffalo with the speed 15 miles per hour. They will more active in the morning and lazier in mid-day. However, baby Komodo and young Komodo are likely to be active at any time.
Getting to Rinca Island
The best way to get there is joining the Komodo island tour from Labuan Bajo. Here are some tour packages you can take:
Full day tour with speed boat
2 days Komodo Tour
3 days Komodo tour package
There are many more tour packages that you can book to visit the island. To see more details of the tour, you can visit the Rinca island day tour from Labuan Bajo. Our teams are welcome to serve your better.
What can you expect to see?
The island is a tiny fishing village in Komodo National Park. It is an undeveloped compared to Komodo island, It is dry and hot. The dense forest will give the way to savannah grass. There is also some watering hole where the Komodo Dragons hunt the prey.
According to BTPN, Komodo National Park Authority in 2018, there are living 1.300 Komodo Dragons. While in Komodo island, there are living 1.727 of Komodo Dragons. And the others are found on Motang island and Nusa Kode.
When you are on the island, Keep in mind that Komodo is the wildlife, follow instructions from your Ranger. Baby Komodo are often on the trees, so keep watch during the trek. For the best advice before you visit the island, read about our travel tips details.
The Other Wildlife Living
Komodo Dragons are not the only wildlife living on the island. There are also some of the wildlife such as wild pig, buffalo, bird species, deers and monkeys. Cobra snakes also have species on the island. Most of the snakes are coming out at night or some swimming on the ocean.
The most you will see on the way are buffalos, birds, and deers. They are sometimes coming out around the trek. Ask your ranger if you need to stop for pictures. Most of the wildlife photographers are choosing to spend a few days on this island. Private Liveaboard is the best option if you want to stay a couple of days here.