Labuan Bajo
---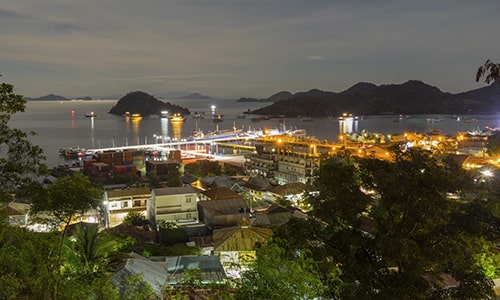 Labuan Bajo is a small fishing town in West Manggarai Regency, Flores. The town now becomes the capital city of West Manggarai. This city also the main starting point for Komodo island tours and ferries to Sape.
There are 4 mains places which are different activities; tourist activities, Government offices, and the fishing village. While to the east side, there are villages which are mostly farmers.
Getting to Labuan Bajo
There are some best ways to get there, you can go by boat, flight, and bus. Here are the recommendations:
Ferry from Sape offers daily departure at 09.00 AM and 04.00 PM.
Big ship (PELNI) which is landed twice in a month from Bali, Lombok, and Sulawesi.
Take a Komodo island boat trip from Lombok or Bali
Flight from Denpasar and Jakarta. Check flight schedules Garuda Indonesia, Lion Air, Sky Aviation and Wings Air.
Bus from Ruteng or Ende. You will need approximately 12 hours from Ende and about 5 hours from Ruteng.
Accommodation & Restaurants
Labuan Bajo has become one of the developed tourism destinations in Indonesia. In the last few years, the increase in accommodations is rapidly spread around the city. As well as restaurants from local foods to Western cuisine are also spread around the city.
Accommodations are starting from backpackers, mid-range to the stars. Most stars are located on the Southside and Northside. While in the middle of the city are backpackers to mid-range.
Backpackers & midrange Hotels:
Golo Hilltop hotel, price range IDR 500.000 per night, some online portals, might offer some discounts.
Ciao Hostel, price range IDR 300.000 per night.
Komodo Lodge, price range IDR 400.000 per night.
Kasuwari Hotel, price range from IDR 250.000 per night.
La prima Hotel, price range from IDR 900.000 per night.
Stars Accommodations:
Bintang Flores, price range from IDR 1000.000 per night.
Plataran Komodo Resort, price range from IDR 2.550.000 per night.
The Jayakarta Suites Komodo, price range from IDR 1000.000 per night
Ayana Komodo Resort, price range from IDR 3.000.000 per night
There are still many hotels, try to find with some trusted online bookings platform.
Getting Around
It is simple to get around the city, just rent the motorbike, private car or Bemo (public transportation). Motor rental is easy to find, just down the main street along the way to the harbor. See some small shop on the way, they normally put standing board said Rent Motor Bike or car rental.
Places to visit
Here are some places of interest you may consider to visit:
Melo Village
Batu Cermin
Cunca Rami Waterfall
Batu Cermin
Cunca Wulang Waterfall
etc.
See details 10 best things you may consider to do during the vacation in this beautiful city.