Flores Island
---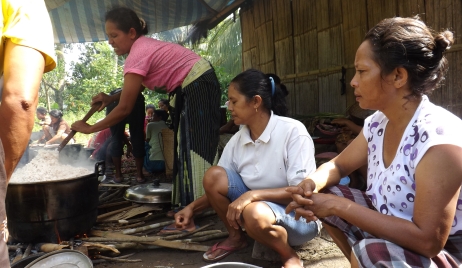 Flores is named after word Flower (Bunga). Flower Island or local call Pulau Bunga is one of the most popular tourist destination. Word Flores was an adoption word from Portuguese "Copa de Flrores" which means Tanjung Bunga or Pulau Bunga(Flower Island).
Flores devided into three main part, West Flores with the famous places to visit are Labuan Bajo,Komodo Island,Wae Rebo,Cancar and Ruteng. Central Flores with the places to visit are; Bajawa,Riung,kampung Moni, Bena Village Three collored lake(Danau Kelimutu) and the East Flores is Lembata and Larantuka.
Flores is part of East Nusa Tenggara Province and It is one of the most popular tourism destination in Indonesia,with its nature,culture,such as world 7 wonder winner Komodo,Kelimutu, a uniqe traditional dance "Tarian Caci" , Traditional Village "Wae Rebo" and much more.
Historical
History shows that the people of Flores island is inhabited by various ethnic. Each ethnic occupy a certain area complete with social and cultural institutions and ideologies that bind members of the community as a whole. The following are terms of language,culture ethnic of Flores:
Ethnic Manggarai - Riung (consist of Manggarai language groups, Pae, Mbai, Rajong, and Mbaen)
Ethnic Ngadha-Lio (consisting of a group of languages Rangga, Maung, Ngadha, Nage, Keo, Palue, Ende and Lio)
Ethnic Mukang (Consist of Sikka, Krowe, Mukang and Muhang);
Ethnic Lamaholot (consist of West Lamaholot, East Lamaholot, and Central Lamaholot)
Ethnic Kedang (which is used in the southern part of the island of Lembata).
Religion
In general 80% the community embraced the Catholic religion, and the rest are Muslims, Hindus, Protestants and Buddhists. The Catholic religion was first introduced in Flores by a missionary of the Portuguese in the 16th century, centered on Solor ,Larantuka and Sikka.
Culture
Flores has a different culture each part, including: Budaya Flores Timur, Sikka, Ende, Ngada and Manggarai.
The Culture Of Flores Timur(East Flores)
Flores Timur (East Flores) is also called Lamaholot, the traditional house concept is regarding to central of tribe rituals, the custom home used to be a place to honor Lera Wulan Tana Ekan(regarding to the gods)
The society social life is depends on who occupy the area first, and then the person will be given the title as the Tuan Tanah (Landlord). Tuan Tanah is the one who will decided all the problems in their daily lives and have the right to distribute land to each tribal Mehen. Suku Ketawo (Ketawo Tribe) was coming after Suku Mehen (Mehen Tribe), so they have a right to live there and cultivate the land of Mehen tribe. Suku Mehen (Mehen Tribe) retain as Tuan Tanah and assisted by Suku Ketawo (Ketawo Tribe).
East Flores or Lamaholot occupations can see from their expressions as following:
Ola tugu,here happen,Ilua Watana,Gere Kiwan,Pau Kewa heka ana,Geleka Lewo Gewayan,Toran Murin Laran artinya: Bekerja di Ladang,Mengiris Tuak,mencari siput di laut,berkaya di Gunung,memberi nafkah keluarga,mengabdi kepada tanah air, Menerima Tamu Asing.
means: Working in Farm, pruduce Arrak or Tuak, looking for sea slugs, responsible to the family, devoted to homeland , Accepting Foreign Guests.
The culture of Sikka
The High Class of the society in Sikka is called Ine Gete Ama Gahar,consisting of King and Nobles and the second class is Ata Riung with its function as a Royal loyalty and help the King and Nobles to run the administration. And the third class is Mepu or Maha as an ordinary society
The Living
In general people in Sikka working in the farm,the agricultural calendar as follows: Wulan Warrants - More Duru (October-November), where they go for planting, following a month-Bleke Gete –Bleke Doi - kowo (January, February, March) period to clean the farm and in the months of Balu Goit - Balu Epan - Blepo (April s / d June) period for picking and planting crops / nuts. While at the end of the calendar month in which the agricultural labor Pupun Porun Blebe Oin Ali-Ilin (August-September).
Budaya Ngada
Ngada is consist of 4 ethanic : Nage Keo,Ngada,Riung and Sao.The high class in Ngada is called Ata Gae,Midle class is called Ata Kisa and the lowest class is Ata Hoo.
The Living
In general people in Ngada working in the farm.
Budaya Manggarai
Family formation consisting of father, mother and children called Cak Kilo. Then following with Kilo, a small part of Cak Kilo,the midle clan is Panga then the large clan is Wa'u.
Class of society devided into 3 main part; High Class called Kraeng (King) ,Gelarang(Middle Class) and the lowest class is Lengge (rabble).
The King has the authority to puniest the people who will not pay the tribute and Gelerang will collect the tribute from Lengge (rabble). The status of Lengge is always threatened status. This group must be pay taxes, forced labor workers, and likely to be a slave which at times can be brought to Bima and a very little prospect back home.
Flores Nowdays
According to census in 2010 Flores has 1,831,472 population and It is under Indonesian Republic in all the administration,political,economy ,etc .
Book Your Flores Island Tours to see more this beautiful Island and have some great memories with your pictures or videos.