Bali
---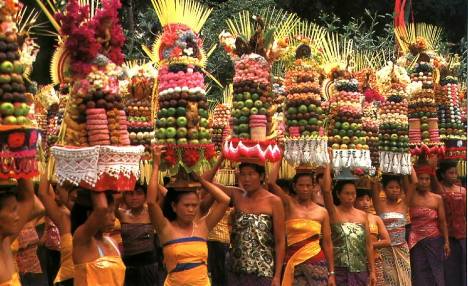 Bali is part of the Small Sunda Islands with the length 153 km and wide 112 km. Bali is located at 8 ° 25'23 " South Latitude and 115 ° 14'55 " East Longitude.
Mount Agung is the highest point of Bali with the height 3148 m. This volcano was last erupted in March 1963. Gunung Batur is also one mountain in Bali. Around 30,000 years ago,Mount Batur erupted and produced a terrible disaster on earth of Bali.
The capital of Bali is Denpasar. Ubud and Other places in Gianyar regency are the traditional artistic places, while Kuta , Sanur , Seminyak , Jimbaran and Nusa Dua are the main tourism destination which is rich of beaches.
Religion and Culture
Unlike most of Muslim-majority Indonesia, about 83.5% of Bali's population adheres to Balinese Hinduism, formed as a combination of existing local beliefs and Hindu influences from mainland Southeast Asia and South Asia. Minority religions include Islam (13.3%), Christianity (1.7%), and Buddhism (0.5%). These figures do not include immigrants from other parts of Indonesia.
When Islam surpassed Hinduism in Java (16th century), Bali became a refuge for many Hindus. Balinese Hinduism is an amalgam in which gods and demigods are worshipped together with Buddhist heroes, the spirits of ancestors, indigenous agricultural deities and sacred places. Religion as it is practised in Bali is a composite belief system that embraces not only theology, philosophy, and mythology, but ancestor worship, animism and magic. It pervades nearly every aspect of traditional life. Caste is observed, though less strictly than in India. With an estimated 20,000 puras (temples) and shrines, Bali is known as the "Island of a Thousand Puras", or "Island of the Gods"
Balinese Hinduism has roots in Indian Hinduism and in Buddhism, and adopted the animistic traditions of the indigenous people. This influence strengthened the belief that the gods and goddesses are present in all things. Every element of nature, therefore, possesses its own power, which reflects the power of the gods. A rock, tree, dagger, or woven cloth is a potential home for spirits whose energy can be directed for good or evil. Balinese Hinduism is deeply interwoven with art and ritual. Ritualizing states of self-control are a notable feature of religious expression among the people, who for this reason have become famous for their graceful and decorous behaviour.
Apart from the majority of Balinese Hindus, there also exist Chinese immigrants whose traditions have melded with that of the locals. As a result, these Sino-Balinese not only embrace their original religion, which is a mixture of Buddhism, Christianity, Taoism and Confucianism, but also find a way to harmonise it with the local traditions. Hence, it is not uncommon to find local Sino-Balinese during the local temple's odalan. Moreover, Balinese Hindu priests are invited to perform rites alongside a Chinese priest in the event of the death of a Sino-Balinese. Nevertheless, the Sino-Balinese claim to embrace Buddhism for administrative purposes, such as their Identity Cards.
Bali is renowned for its diverse and sophisticated art forms, such as painting, sculpture, woodcarving, handcrafts, and performing arts. Balinese cuisine is also distinctive. Balinese percussion orchestra music, known as gamelan, is highly developed and varied. Balinese performing arts often portray stories from Hindu epics such as the Ramayana but with heavy Balinese influence. Famous Balinese dances include pendet, legong, baris, topeng, barong, gong keybar, and kecak (the monkey dance). Bali boasts one of the most diverse and innovative performing arts cultures in the world, with paid performances at thousands of temple festivals, private ceremonies, or public shows.The Hindu New Year, Nyepi, is celebrated in the spring by a day of silence. On this day everyone stays at home and tourists are encouraged to remain in their hotels. On the day before New Year, large and colourful sculptures of ogoh-ogoh monsters are paraded and finally burned in the evening to drive away evil spirits. Other festivals throughout the year are specified by the Balinese pawukon calendrical system.
Book day tour in Bali, also we offer Komodo Island Tours from Bali, to book you can go to search box, there you can see and book the tours in Bali.