Wae Rebo Village
---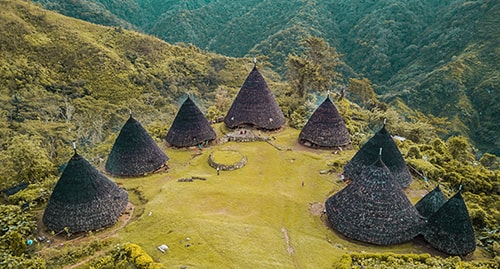 Wae Rebo Village is the Manggaraian tribe traditional village in Flores-East Nusa Tenggara, this village is located on the West Flores, Manggarai Recency.
Wae Rebo Village has uniques traditional houses which is content only 7 houses in a unique arsitecture and made from the clasic wooden with the palm fiber roof. Situated sorround by beautifull hills, foggy morning, Wae Rebo has show it amazing and a wonderfull sight to enjoy your days, especially in the morning. These 7 cone shaped houses will give you an impression and a meaningfull story of its village.
When you want to visit Wae Rebo Village, all you need to do is prepare your self physicaly as the distance of this village is about 6 hours from Labuan Bajo with the road condition is not very good. After you arrive in Denge Village, off the car and start a shoft trekking to Wae Rebo Village for about 5 hours through tropical forest.
There is no accomodation here, so when you are in Wae Rebo Village, the villagers will welcome you and offer to stay in one of these houses. Meals are provided in traditional way and much Indonesian taste. People are origion Manggarai tribe, so they are welcome you in much traditional way as the culture they believe.
In Wae Rebo Village also like other tribe in all Manggarai region, they celebrate Penti Ceremony every 5 years, this Penti is really important event in Manggarai, the meaning of this even is "Thanks Giving Party" for their harvest of the years.
In this Penti time, all Manggarain are together in their small tribe or family. This Penti also held in Wae Rebo, they celebrate it together, kill the animals like bufallo, chicken, pig and other animals. They also show traditional dancing called "Caci" this dance show the attractive of whip fighting dance each man in Manggarai. This dance can play by two man.
In Komodo Wisata Tours and Travel, you are welcome to get the information of getting to Wae Rebo. You can also book Flores Island Tours for the wide range of tour packages or go to tour packages in Flores to see more specific tours in Flores.