Taka Makassar, Komodo National Park
---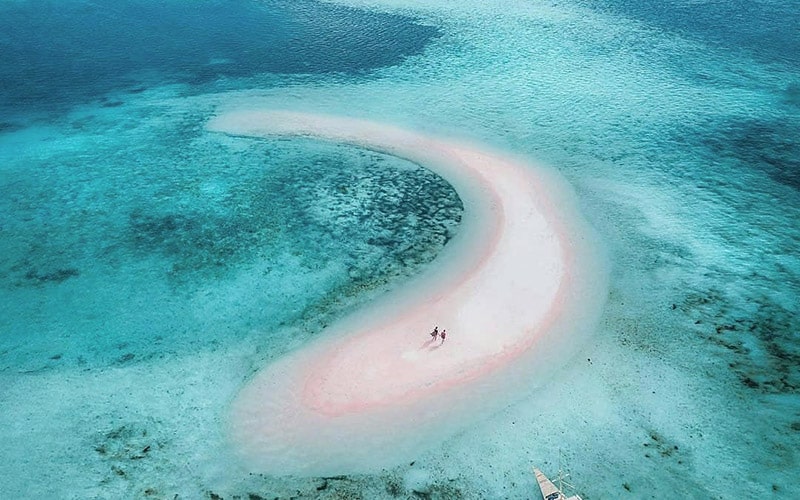 Taka Makassar is the small sand bar located in Northeast Komodo Island. It is one of the most famous destinations within the Park. This island offers a stunning white sand beach and crystal clear water.
Stay at the same area to Manta Point, the island can reach only with the small boat or dinghy. What you can do here is swimming, snorkeling or just relax. Taking pictures is also the best thing.
The island is also well known as Karang Makassar or previous call 9 Island. The places near Karang Makassar, such as Padar offer a stunning view. Some of the tour arrangements included visiting to Padar Island as well.
Getting to Taka Makassar
The first thing to get to the island is you need to book a flight from Bali to Labuan Bajo. And then you can look for some tours from Labuan Bajo. Here below are details and the best way to get to Taka Makassar:
Book a day tour with an outrigger boat from Labuan Bajo. This boat tour is perfect for a short day tour and backpackers.
Some options are getting on the liveaboard Phinisi boat for 2 or 3 days from Labuan Bajo. Make sure the option of your tour packages is inclusive of the island.
Book a Komodo tour is depending on your travel style. You can book in advance or book when you get to Labuan Bajo. If you want to make an advance booking, you can click here. Otherwise, you can reach our office in Labuan Bajo to book.
Accommodations and Restaurants
The accommodations and restaurants are not fine on the island as it is just a sand bar island. If you take a liveaboard tour, the tour operators provide you the room on the boat. Meals are also provided on the boat.
When you get on a day outrigger boat tour, they only provide the lunch. It is only a day tour at a maximum of 10 hours spending in total. For a small shopping, you can do it when you are on Komodo Island. They provide some snacks, mineral water, and many more.
Our best recommendation to stay when you visit the Komodo National Park is in Labuan Bajo. You can stay in Labuan Bajo before getting on the Komodo boat explore. It is also the best for you to explore Labuan Bajo beyond.