Sprider Web Rice Field, Ruteng Flores
---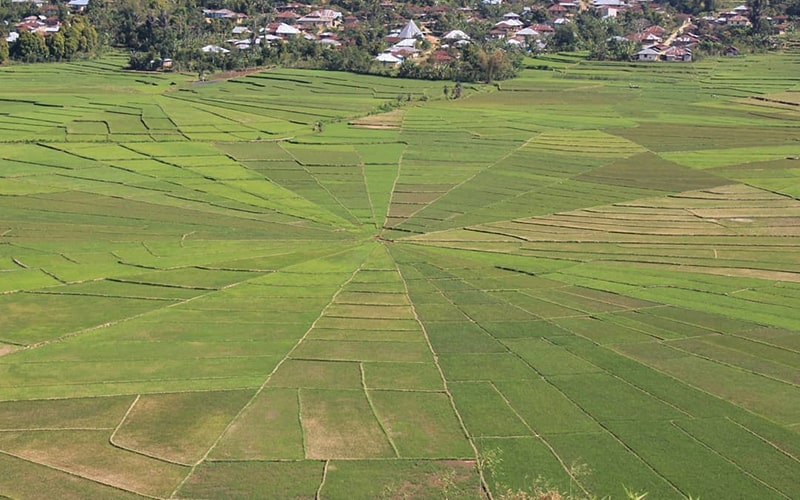 Spider web rice field is located in Cancar, Ruteng Flores East Nusa Tenggara. It has a unique shape that looks like a giant spider. This wonderful shape is regarding the traditional communal agriculture of Manggaraian People.
Centuries ago, this cultivated land was called Lingko by the Mangaraian people. It was shared by the entire village. The field is a circle and the center is called Lodok. Lingko is a Land owned by a Wa'u (a clan) in a Golo. Lingko is not owned by a person, but it is owned by a Wa'u in a Golo.
Golo means hill, it is the traditional settlements that located up the hill. But sometimes it is located in the valley, depending on how far the spring location is. From the top, you can see the lines which look like fingers. And that formed a circle.
The fact the Manggarai tribe shares the land is that they will be gathered from each clan. And hold the ceremonial by sacrificing a buffalo. Each of Tu'a Panga (clan chief) will ask to put down their pointed and middle fingers on the land. And then the size of each clan land will follow the finger size. The size is leading to be wide and shaped like a spider.
Getting to Spider Web Rice Field
Ruteng is a close place to Spider Web Rice Field in Cancar. It takes approximately one hour drive. Otherwise, there are some best ways to get there while you are in Labuan Bajo, Maumere, Bajawa, or Ende.
The first thing you need to do is take a flight from Bali to Labuan Bajo or Maumere. And then you need to do the following ways:
Join the Flores tour package. Choose one that includes Spider Rice Field Cancar on it. You can also choose to start the tour from Labuan Bajo, Maumere, Bajawa, Ruteng, and Ende.
If you expect to join the tour package, we recommend you to book an advance booking. Otherwise, it depends on your travel style. you may try to book when you get to Flores.
Accommodations and Restaurants
Spider Rice Field is located in Cancar village, there are no such restaurants around the village. The only place you can find the restaurants is at Ruteng. So when you join the tour you probably have lunch in Ruteng.
Accommodations are also not available around the place. Ruteng is the only place where you can find accommodations. In Ruteng, you can find any standard accommodations.
Most of the tour operators will offer a night stay in Ruteng after visiting Spider Rice Field. And then you will continue the tour to next destinations such as Bena Village of Kelimutu Lake. It is if you take overland tour packages.