Bena Village
---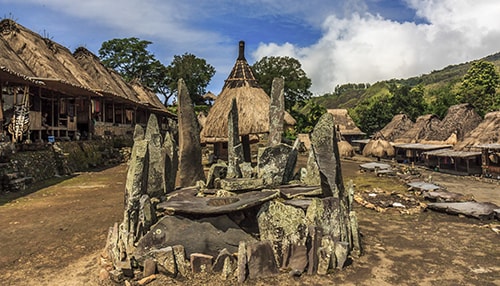 Bena Village or Kampung Bena is the megalithic village which is located on Ngada in East Nusa Tenggara, about 19km in South Bajawa.
Following history of Bena village, the village which is located under the foot of mountain is typical of old worshipers of mountains as the place of worship and they believe that God is there. They believe that God from the mountain will protect them.
At the momment Bena Village has 40 traditional houses and there is only one main gate which is located in the North side of the village. In the midle of the village there are two small buildings which is called by the villagers Bhaga and Ngadhu, Bhaga is small uninhabited building while Ngadhu is sigle masted building with palm fiber. The pole function is to hang the sacrificial animals when the traditional ceremonies. This village is one of the main tourist destination in Ngada or Central Flores, both Domestic and International are visited the village.
Bena village is situated on the hilltop with the view of Mount Inerie, fresh air with the tropical forest and beautiful sight make it most perfect places to visit during your holiday to Flores Island. To reach Bena Village you can take tours which is start from Labuan Bajo or from Bajawa with the prvate tour. You can also easly book Flores Island Tours to Bena Village online with us and see also the the tours details to Bena Village with the special offer.
Book tour to Bena Village has never been easier as not all tour operators are offer the special price at the high quality service. Komodo Wisata Tours and Travel as the only easy online booking engine offer best price guarantee with the professional tour Guide. See all tour packages to Flores for the details of your holiday planing to Flores, especially to Bena Village.